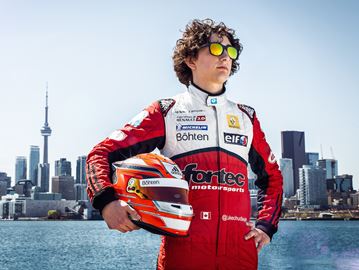 Young Milton driver's story to be shown during Canadian Grand Prix weekend
Luke Chudleigh's Formula One dreams will soon be shared with a mainstream audience, via Open Wheel Productions' Braking Point.
The documentary follows the racing dreams and development of the now 20-year-old Miltonian, who was shadowed by a film crew during his sophomore season on the Eurocup circuit last year — with his life on and off the track captured.
Chudleigh's 2014 campaign definitely showcased the highs and lows of his sport, with five top-10 finishes on the Eurocup Formula Renault 2.0 ALPS series at one end of the spectrum and a broken thumb suffered in competition at the other.
Braking Point offers insight into his relationship with his team, to his family's opinion on his career and his unique take on being a Canadian athlete aboard.
"I'm just thrilled to have been able to partner with such an awesome team as TSN to get Braking Point from dream to reality," said Chudleigh, who races for Fortec Motorsports and is one of few Canadian open-wheel racers competing in Europe. "I think we've captured a great snapshot of what it's like to be a race car driver in the open-wheel ranks these days."
Remarked TSN Programming and Marketing VP Shawn Redmond, "Luke's compelling story is sure to resonate with Canadian athletes and fans, and we're all very excited to give racing fans a behind-the-scenes look at his experiences both on and off the track."
Braking Point is set to air during the Canadian Grand Prix weekend, with the Formula One race from Montreal also broadcast by TSN. It will be shown at 4 p.m. (EST) on Saturday, June 6 on TSN1 and TSN4 immediately following F1 qualifying from Circuit Gilles Villeneuve.
It will air again on the Sunday, right after the Grand Prix at 4 p.m. on TSN2.
------------------------------------------------------- ------------------------------------------------------- ------------------
Detail Link :
http://www.insidehalton.com/sports-story/5649587-chudleigh-s-racing-dreams-subject-of-documentary-to-air-on-tsn/