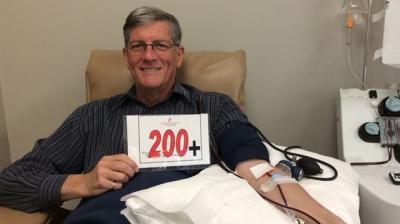 Ian Hatcher makes his way to the Hamilton Blood Centre every two weeks — armed with a generosity spirit and a heartwarming source of motivation.
"One of the memorable donations was when the nurse used four very small pouches to collect my donation, which is usually collected in one large pouch. When I asked why, I was told the donation was for a special order for a premature-birth baby," recalled the longtime Miltonian. "That really hit home, to know my blood was going directly to someone who needed it… especially a baby."
A blood donor since 1980, Hatcher recently hit the 200-donation plateau — a milestone he would have reached much sooner if not for a thyroid condition that required medication and a subsequent interruption to his giving.
He began donating as part of the overall community support mantra of his Kempenfeldt Mason Lodge in Barrie and continued when his family moved to town in 1982.
A few years ago he switched to donating blood platelets — which requires him to be hooked up to a special machine for about two hours while the blood is continually being extracted, with the platelets removed and platelet-free blood returned.
That's where the trips to Hamilton come into play, since Milton does not yet have the equipment necessary for this specific type of donation.
Hatcher doesn't seem to mind going the extra mile — so to speak — especially considering the fact that it's primarily patients undergoing chemotherapy that are the recipients of these blood platelet offerings.
"My platelet donations are almost always designated to a specific patient, which provides an ongoing sense of satisfaction and keeps me going back," said Hatcher, who was in Hamilton this morning for his 201st donation. "I would urge everyone to donate. There is always a need for blood and blood products. And it's in us to give."
------------------------------------------------------- ------------------------------------------------------- ----------------
Detail Link :
http://www.insidehalton.com/news-story/5652095-miltonian-reaches-milestone-of-generosity/