Burloak Canoe Club paddlers win four medals, van Koeverden, Rublee take silver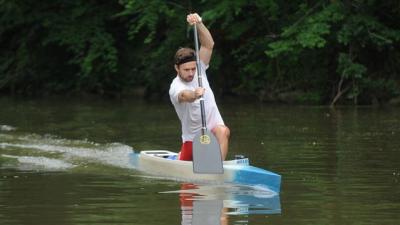 Mark Oldershaw earned his second World Cup gold medal in as many days, winning the C-1 (canoe singles) 500m Sunday in Portugal.
China's Qiang Li set the early pace but Oldershaw picked up his stroke rate to pull ahead and won a close race that saw the top four separated by just 0.74 seconds. His margin of victory over Li was just 0.168 seconds.
Oldershaw's victory was the seventh of his career in World Cup competition. He won the C-1 1,000m on Saturday.
Including Oldershaw's two golds, Burloak Canoe Club members won four medals at the season's first World Cup in Montemor-o-Velho, Portugal.
Adam van Koeverden took the silver medal in the K-1 (kayak singles) 500m while Burloak Canoe Club teammate Chris Mehak was fifth. Van Koeverden and France's Cyrille Carre were neck-and-neck at the midway point of the race, with the Oakville native leading by less than a tenth of a second. Carre pulled away over the second half of the race, finishing in 1:37.960 to win by more than a second over van Koeverden, who finished in 1:39.112. Mehak had a time of 1:41.124.
Burloak's Aaron Rublee also earned a silver medal in the C-2 200m, teaming up with Max Poulin. The Canadian duo had a time of 38.000 seconds, finishing behind Poland's Wiktor Glazunow and Vincent Slominski, who won in 36.900.
Burlington's Brady Reardon and the Canadian K-4 crew Pierre-Luc Poulin, Brian Malfesi and Phillipe Duchesneau finished finish seventh in the 1,000m.
------------------------------------------------------- ------------------------------------------------------- ----------------
Detail Link :
http://www.insidehalton.com/sports-story/5632314-burlington-s-oldershaw-earns-second-world-cup-gold-in-as-many-days/