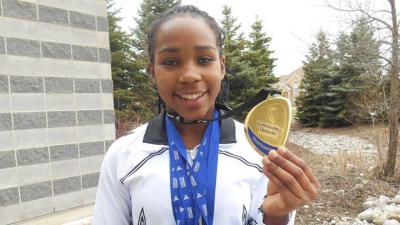 The capability and commitment had always been there. Now confidence has been added to the mix.
With that final piece of the puzzle firmly in place, Keiara Jones-Tyrell has been tough — no, make that impossible — to upstage on the provincial gymnastics scene this season.
The 14-year-old Milton Springer made it a clean sweep within Ontario boundaries for the 2014/15 campaign earlier this month in Windsor, where golden performances on vault and bars powered her to all-around champion status in the provincials' Level 8, 14-and-up division.
She's just the fourth Springer in the club's 41-year history to claim overall Ontario gold.
"It (winning) felt amazing… all that hard work had finally paid off," said Jones-Tyrell, who rounded out her weekend with a silver on beam and fifth place on the floor. Qualifying for the event finals, she repeated her golden performances on vault and bars to further solidify herself as the one to beat in Level 8. "Standing on the podium with overall gold, I started crying. I was so happy."
Representing her club at international meets in Chicago, Las Vegas and Cancun, Mexico over the past 15 months, the Springer standout says she now feels more prepared for high-stakes competition.
Her coach whole-heartedly agrees.
"Her consistency's definitely improved with her work ethic," said Craig Smith, whose all-around Ontario champ was also golden at each provincial qualifying meet and took top spot at the Team Ontario Tour Selection in November. "She's bought into the program we're trying to deliver and there's a belief in herself now that wasn't necessarily there last season."
Jones-Tyrell's efforts highlighted a stellar showing in Windsor for the Springers, who had four all-around medalists — the most ever.
Each capturing gold on bars, Madison Lunshof and Daniella Silvestre claimed overall silver — doing so in the Level 8 12/13 and Level 6, 10-years-old ranks respectively.
Both came within a third-of-a-point of reaching the top of the podium.
Silvestre took silver on beam and rounded out her efforts with a sixth on floor and seventh on vault, while Lunshof's beam and vault were both good enough for fifth and she finished ninth on floor.
Joining them on the all-around podium with Level 7, 10/11 bronze was Diana Dela Pena — who gave the Springers their third-ever overall gold last year at Level 6.
This time around her best efforts were reserved for bars and beam, on which she placed fourth and sixth.
Sofia Adamo served as another standout in Windsor, claiming gold on floor in the Level 8 10/11 division. She and club-mate Lexi Palka tied for fifth overall, with Palka coming away with silver on bars.
Rounding out the Springers' medal haul with a silver on bars in the Level 7 10/11 ranks was Haley Lambermont.
Laura Moglinicki, Mikaela Mendoza and Meaghan O'Donnell also represented the club in Windsor.
Jones-Tyrell, Lunshof and Dela Pena will close out the season as members of Team Ontario for the Eastern Canadian championships in Moncton, N.B. May 10 and 11. Palka and Adamo are alternates for the provincial squad.
------------------------------------------------------- ------------------------------------------------------- ---------------
Detail Link :
http://www.insidehalton.com/sports-story/5574150-milton-s-jones-tyrell-captures-all-around-gold-at-provincials/