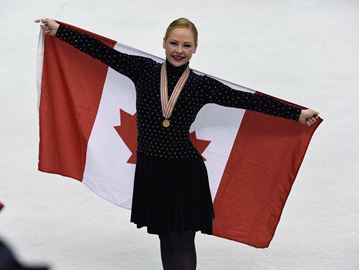 The phrase 'I can hardly wait' has rarely — if ever — held as much meaning as it did for Victoria Smith Saturday evening.
Her NEXXICE synchronized skating team had just nailed its free program and put itself atop the world championship podium.
But with three top-tiered squads still to compete, the gold medal was still very much up for grabs.
To say Smith and company were eager for the final verdict doesn't even begin to describe it.
"It was the longest 20 minutes," said the 22-year-old Miltonian.
Anxiety would eventually give way to euphoria, as Burlington-based NEXXICE edged out Finland's Marigold IceUnity by a scant two-thirds of a point to reign supreme in front of a raucous hometown crowd of 7,600 at Hamilton's FirstOntario Centre.
"It was insane (the moment victory became official). We were over the moon," a still emotional Smith told the Champion Sunday morning. "Honestly, words can't describe it. It was overwhelming… but in the best possible way."
A long-time synchronized skater who joined perennial powerhouse NEXXICE two years ago, Smith was among the four lay back spinners that were the focal point of a spectacular finish in a near-perfect free program.
This capped an overall 214.73-point performance and gave the hometown favourites and nine-time defending national champs their second world title — and first since 2009.
No other non-Scadenavian team has ever struck gold.
Set to Rhapsody in Blue, NEXXICE's free skate was highlighted by beautifully-executed lifts — something that was in question after one member of Smith's lift team had recently broken her wrist — and had clean lines from start to finish.
This followed a short program — set to the Road Hammers' Mud — that earned the competition's only '10' judging, and with an all-around 71.06-point score put NEXXICE first after day one.
"We did exactly what we had planned to do. We left it all on the ice," said Smith, who in 2013 made the difficult decision to transfer from McGill University to the University of Guelph in order to continue her skating career, after her Montreal-based club shelved its senior team. Her debut season with NEXXICE met with world championship silver in Courmayeur, Italy. "From a personal accomplishment standout, we were pretty ecstatic."
This weekend marked the biggest crowd ever for synchro's world stage. And having the home-ice advantage made NEXXICE's triumph all the more meaningful.
"It was fantastic. To think so many people were willing to pay to come out and watch us… it's hard to explain," said Smith, who noted that in recent years the world championships have had increasingly-strong commentary, which has helped educate the public about the finer points of her sport. "After we won and heard that crowd, we were all speechless."
Adding to this year's pressure was a February appearance (during competition in France) by members of the International Olympic Committee, who in June will be deciding on synchronized skating's inclusion in the 2018 Winter Olympics.
Said Smith, "I'm feeling confident (about synchro's chances for inclusion). We were judged on more than just what we did on the ice this time. Our behaviour behind the scenes was also being looked at. To be seen as an ambassador for your sport… that's a good feeling."
------------------------------------------------------- ------------------------------------------------------- ----------------
Detail Link :
http://www.insidehalton.com/sports-story/5553519-milton-s-victoria-smith-helps-nexxice-reign-supreme-at-synchro-skating-worlds/