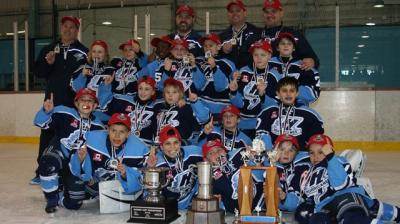 Halton's AAA novices had just returned to their winning ways, snapping their only two-game losing streak of 2014/15 with a 4-3 squeaker over host Ajax-Pickering.
Now came the hard part.
Sitting at 1-2 in the Ontario Minor Hockey Association (OMHA) championship tournament, the Hurricanes needed to not only beat the Whitby Wildcats — who'd toppled them in all three meetings this season — but do so by a minimum of two goals.
With that in mind, Tim Race figured many in attendance weren't overly optimistic about the Hurricanes' chances for advancement to the gold medal showdown.
However…
"This team just doesn't give up," Halton's head coach stressed, referring to his team's 0-2 start. "They'd been down at times this season, but always found a way to come back stronger."
Delivering another example of that, the Hurricanes came out firing on all cylinders, scoring three times before the high-stakes clash was 10 minutes old and pummeling the Wildcats 8-4.
Finishing round-robin play at 2-2 and earning a championship berth via a plus-minus tiebreaker, Halton would make the most of their mid-tournament turnaround.
Rallying from an early deficit and enjoying topnotch goaltending from first-star Anthony Russell, the Hurricanes edged the Markham Waxers 2-1 with the gold medal on the line.
"I'm so proud of all 17 guys. They really came back strong," said Race.
Ryan Cunha notched the game winner midway through the second period — on a nifty rush — with Noah Race and Aiden Cormack drawing the assists.
Cormack would also factor into the initial tally, as he and Christian Giannaris set up Joshua Cote late in the opening frame.
Race led team scoring at the tournament with two goals and five assists, while William Eggleton was close behind with three goals and three helpers.
Cote was the top marksman with five goals and Cormack also stood out with six assists.
Sporting 12 Milton players and going 32-2-2 in the regular season, the Hurricanes capped their championship spring with a 5-0 whitewash of Niagara Tuesday in the South Central Triple-A (SCTA) championship at Brampton's Powerade Centre.
Liam Edmonds was rock-solid between the pipes to earn the shutout, while Christopher Soares tallied twice.
Eggleton and Austin Medeiros each had a goal and an assist, while rounding out the scoring was Cote.
Making up the rest of this season's championship squad were Isaac Bandoo, Christopher Caissie, Jaedon Holloway, Christian Giannaris, Mason Kocher, Matthew Langille, Michael Lefave and Brayden Turley.
Assisting Tim Race were Ron Cunha, Michael Eggleton and Brian Cormack.
The novices were one of five Hurricanes teams to reach the OMHA championships.
Among the others were the minor midgets, who claimed bronze with a 4-1 win over Oakville.
The game was closer than the final score would indicate, as the Hurricanes sank two last-minute empty netters to seal the deal.
------------------------------------------------------- ------------------------------------------------------- ------------------
Detail Link :
http://www.insidehalton.com/sports-story/5536566-novice-hurricanes-battle-back-to-claim-omha-gold/