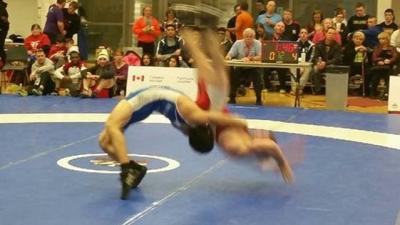 Iwasa-Madge qualifies for TO2015 with dynamite debut in Greco Roman
Kevin Iwasa-Madge admits he still has a lot to learn about Greco Roman wrestling.
To say the next few months offer ample motivation to do exactly that would be… well, a staggering understatement.
Still dejected after narrowly missing out on national freestyle bronze less than 24 hours earlier, the 25-year-old Milton grappler wasn't feeling particularly positive heading into his first high-stakes Greco Roman competition last weekend in St. Catharines.
He and his Guelph Wrestling Club coaches had only brought up the idea of seriously taking on Greco Roman a few months ago with hopes of a making a bid for the Pan American Games.
Before then, Iwasa-Madge had only dabbled in what's arguably the world's oldest sport — which forbids holds below the waist — and wasn't all that confident heading into the national championship opener.
"It was probably a little of both… nervousness and just not feeling too comfortable about competing in this new style. Honestly, I woke up the next day after losing freestyle bronze and didn't even know if I wanted to do this (wrestle Greco Roman)," recalled the two-time high school freestyle champion, who after a series of injuries throughout his university career finally captured national gold for the Guelph Gryphons last year. "But my coach (University of Guelph/Guelph WC assistant Zoltan Hunyady) said 'Don't worry, you've got this. He was right."
Boy was he.
With a strong upper body and long limbs that favour Greco Roman — making it easier to lock up opponents — Iwasa-Madge surrendered an early point in his first match before delivering a thoroughly dominant 4-0 run for both 66-kilogram national supremacy and a berth to TO2015.
His unbeaten campaign included back-to-back 9-0 technical superiority wins, the first against Michael Asselstine of the Alberta Golden Bears.
That victory — which served as payback for Iwasa-Madge's bronze medal loss — was highlighted by a perfectly-executed German suplex that earned him a rare five point score.
"I think it was the only one of the tournament, which felt great," said Iwasa-Madge of the 'grand amplitude', in which a wrestler takes his opponent off the mat with control so that his feet go directly above his head. "I guess I've always been good at locking my hands around opponents and getting into good throwing positions, but in freestyle I was more cautious about it. Now I've got to learn to be more aggressive."
An Applied Human Nutrition graduate, Iwasa-Madge had initially looked at this summer's Pan Am Games as an opportunity at gaining exposure for his burgeoning iMadgen Nutrition business.
Suddenly, it's much more than that.
"It's so exciting. I've represented my country before, but those times there was always something higher that year… like my competition was almost like a consolation," said the former E.C. Drury star, who along with his national teammates heads to Chili at the end of April for the Pan American championships. Those wishing to support his road to TO2015 can do so at http://makeachamp.com/keviniwasa-madge. "But this (Pan Am Games) is the show. I think it's still just hitting me."
As is the notion that his knack for Greco Roman wrestling may someday match — or even exceed — that of his freestyle prowess.
"In the past it's been all about fine tuning the little things (before a major competition). Now I've got some huge steps ahead of me. But it's exciting, the idea of taking the aspects of wrestling that I'm already good at and pursuing that."
Iwasa-Madge fell just short of claiming two medals in St. Catharines.
His 3-2 freestyle run in the 65-kg. ranks ended in a 6-6 draw with Asselstine, whose four-point takedown served as the bronze-medal tiebreaker after Iwasa-Madge lost his own four-point scoring on review.
Iwasa-Madge dropped the semifinal to eventual gold medalist and perennial powerhouse Haislan Garcia of B.C.
------------------------------------------------------- ------------------------------------------------------- -----------------
Detail Link :
http://www.insidehalton.com/sports-story/5530812-miltonian-wrestles-way-to-pan-am-games/