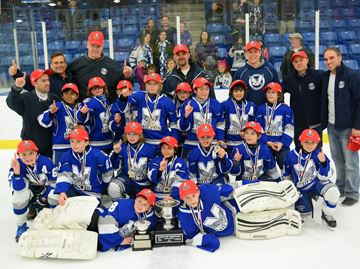 A perfect post-season, and a perfect way to end it.
At least, that is, for those craving suspense.
Milton's additional entry novices provided an ample dose of exactly that, with back-to-back overtime victories to solidify a best-of-five OMHA championship sweep over the TNT Tornados.
The latter of those was particularly dramatic.
Heading into the third period trailing 3-1 Saturday in New Tecumseth, the Winterhawks faced their one and only multi-goal deficit of the playoffs.
But head coach Peter Cabral wasn't overly concerned.
"One of our biggest strengths this season has been our goal scoring," noted Cabral, who led the team to a 17-0 post-season alongside assistants Jeff Miller and Sean Williams, associate coach Lindsay McLaughlin and trainer Don Duplantis. "I knew they could come back."
The Winterhawks wasted little time proving that. Ryan Kesik cut the lead to one less than a minute into the final frame and then evened things up at the 9:29 mark.
From there, captain Lucas Tye notched a would-be winner before the Tornados struck with less than two minutes remaining to keep their season alive.
This set the stage from some overtime heroics by Alasdair MacPherson, whose lengthy wire was a little too much for TNT's goalie to handle — trickling in with 3:50 to go in sudden death.
This provided mom Nicole with a surprising and much-welcomed birthday present.
Said Cabral, "It was pretty exciting alright. The boys really showed how determined they were to win."
Ethan Cabral scored Milton's first tally early in the opening frame, while he and Tye finished with a goal and an assist.
Backstopping the Winterhawks to their title-clinching win was Eric Lamouche.
The AE novices went 8-0 in the preliminary round before delivering quarterfinal and semifinal sweeps of Guelph and New Hamburg respectively to reach the finals.
Overall they went 37-5-4 this season.
Making up the rest of the championship squad were Tyson Edwards, Cameron Stolec, Thomas Sierra, Ryan Celia, Nolan Duplantis, Brayden Koeberle, Gavin Williams, Leyton Robinson, Maddox Macodrum, Liam Miller, Ryaan Saleh and Andrew Shields.
------------------------------------------------------- ------------------------------------------------------- ----------------------
Detail Link :
http://www.insidehalton.com/sports-story/5519108-ae-novices-cap-omha-title-win-with-back-to-back-ot-victories/