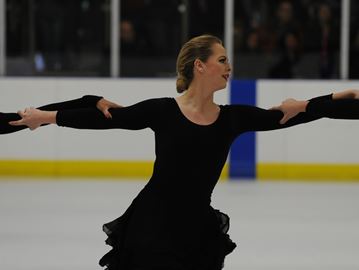 The opportunity, indescribable. The pressure, undeniable.
Heading into the 2014/15 season as a perennial powerhouse and world championship host, the stakes were already awfully high for Victoria Smith and her NEXXICE senior synchronized skating team.
A recent announcement that the International Olympic Committee (IOC) will be taking in those championships and are expected to make a final decision soon after about the sport's proposed inclusion in the 2018 Winter Games — well, that's certainly upped the ante.
"The world championship on its own is definitely an incredible amount of pressure, but now with the IOC coming there's going to be even more eyes on us," said 22-year-old Smith, a second-year member of Burlington-based NEXXICE, which claimed world silver last spring and hosts this year's championships April 10 to 12 at Hamilton's First Ontario Centre (formerly Copps Coliseum). "We're helping set the standard for our sport."
Whenever overwhelmed by that notion, the local skater draws on the advice of one of her favourite high school teachers from now-closed E.C. Drury.
"Ms. (Tania) McPhee was a great teacher and would use the word perspective a lot when things seemed too hard to handle. She's say you just have to enjoy every minute of what's happening."
That mantra has served the longtime skater well as she prepares for the ultimate opportunity her sport's ever had to offer.
To say NEXXICE rides a wave of momentum into worlds would be something of an understatement, given its five-event gold medal streak and the world record short program performance (74.36) the club recently set during its ninth straight Canadian title win — decisively captured in Quebec City.
But Smith and her world-class counterparts know full well that — with the IOC watching — this year's world championships are about more than just what happens on the ice.
"There's other things to consider, like how we deal with the press and how we handle ourselves on social media," noted Smith, of the all-encompassing microscope that awaits her sport's elite participants in Hamilton. "The hardest part is taking that passion you have from simple blades on ice to embracing a bigger possibility (introduction into Olympics). It's a long time coming. Now we have to take all the different areas of our lives and focus them into one goal."
Of course Smith already has deep-rooted experience when it comes to making synchronized skating her top priority.
With her Montreal-based club nixing their senior program two years ago, the then McGill University freshman made the difficult decision to transfer to the University of Guelph in order to join NEXXICE and keep competing.
Despite missing a full season, Smith immediately secured a starting spot on the team's 16-skater lineup last year — and has helped them maintain their top-notch form ever since.
"Victoria has been valuable addition to NEXXICE," said co-coach Shelley Barnett, who leads the team alongside Anne Schelter. "She's a talented skater with a very strong work ethic. Synchronized skating is a passion for Victoria and it shows in her enthusiasm she infuses in practice and in performance."
Persevering through a series of minor injuries this fall and winter — a somewhat inevitable result of a five-hour-a-week boost to their training regiment — NEXXICE's routines seem to be as polished as ever.
The team's five alternates, added Smith, have also had more occasion to be worked into the routine this season in case their last-minute inclusion at worlds is required.
So does NEXXICE have the goods to upgrade last year's silver and taste world championship supremacy like they did — for the first and only time — in 2009?
"We've got an amazing team. Fingers crossed," said Smith, whose team will no doubt face its biggest challenges from the Scandinavian countries, in particular Finland. "There's some great teams out there. It's a question of which ones can skate great that day."
While NEXXICE will make its case for synchronized skating's Olympic inclusion on the ice, Smith welcomed the chance to offer her thoughts on the matter.
"There's something magical about it… the unison in that way. I just hope we can ignite the same reaction in them (IOC)."
------------------------------------------------------- ------------------------------------------------------- -----------------
Detail Link :
http://www.insidehalton.com/sports-story/5517579-ultimate-opportunity-awaits-milton-synchronized-skater/