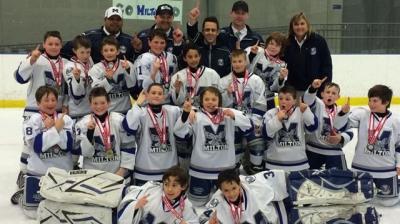 The home team had won every battle to date, and the Winterhawks weren't about to see that trend snapped.
Rallying from a pair of one-goal deficits, Milton's 'A' minor atoms outlasted the Woolwich Wildcats 4-2 in a winner-takes-all fifth game of the Tri County championship at Milton Sports Centre Saturday.
David Barber netted the eventual winner early in the third period — his second of the series clincher — while Philip Wsol also stood with two goals and an assist.
Unfazed after being blanked 4-0 the night before, the Winterhawks delivered a formidable effort along the boards and in the neutral zone for much of their championship win.
Ethan Ramroop was rock-solid between the pipes, while he and tandem partner Matteo Guilliano showed strongly throughout the series.
Rounding out the Tri County championship team were Will Patterson, Owen Stott, Cooper Joyce, Colin Kocher, Kyle Ilao, Jake Mallory, Jayden Simick, Aiden Stanley, Liam King, Aidan Baratto, James Coulson, Mathew Duggan and Adam Stelmach.
------------------------------------------------------- ------------------------------------------------------- -----------------
Detail Link :
http://www.insidehalton.com/sports-story/5519220-winterhawks-a-minor-atoms-claim-tri-county-championship/