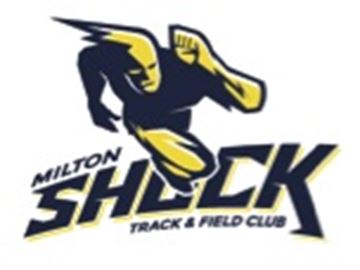 Another indoor track and field meet, another hefty hardware haul for the Milton Shock.
The local club amassed 16 medals earlier this month at York University's Toronto Track and Field Centre — including four of the golden variety.
Two of those were secured in the mite girls' ranks. Dalia Dixon turned back all challengers in the 800m and raced to silver in the 400m, while Nahla Dayle-McPherson struck gold in the shot-put.
The Shocks' biggest single-division medal count came from the tyke boys, who collected a gold, four silvers and a pair of bronze.
Korbin Dixon won the shot-put and took third in the 1,500m, while Ben Baynton was the runner-up in both the 800 and 1,500m and earned bronze in the shot-put.
Aden Crooks enjoyed a dual silver lining, with second-place efforts in the 200 and 400m.
Among the mite boys, Dylan Bailey and Simon Baynton each came away with a pair of medals.
Bailey was golden in the 400m and finished third in the 200m, with Baynton claiming silver in both the 400 and 800m.
Rounding out the club's medal haul were Nicholas Roman and Sam Utting, who took silver in the senior boys long jump and bronze in the atom boys shot-put respectively.
A total of 28 new personal best performances were set among the Shock's 17 respresentatives.
------------------------------------------------------- ------------------------------------------------------- -----------------
Detail Link :
http://www.insidehalton.com/sports-story/5516103-milton-shock-s-indoor-success-continues/