Boers named to Team Ontario U15 squad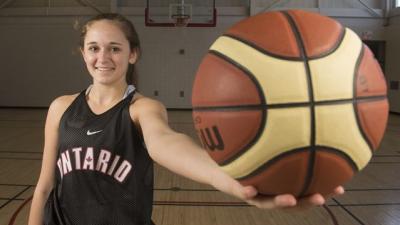 Lauren Boers has made a habit of standing out on the basketball court, but admits that hasn't always been a good thing.
Rewind five years and the local cager — having just been recruited to join the rep ranks, but with no girls team available — found herself part of an Under-10 boys squad.
As the lone female who was taller than her teammates, Boers' initial experience in competitive basketball was… well, less than ideal.
"I didn't really enjoy it right away. They (boys) didn't pass me the ball and when we'd go to tournaments the other team would stare at me, like it was weird that I was the only girl," recalled the now 14-year-old six-foot Miltonian.
Undeterred by that rather unwelcoming stretch, Boers would soon find herself playing up a year with the Milton Stags.
That — under the tutelage of Mike Borlongan — began an unyielding ascension that recently culminated with her being named to Team Ontario's U15 squad.
Making the 12-player cut among an original field of a few hundred prospects and officially named to the team March 5, Boers will see tournament play in Cincinnati and Chicago this summer before debuting on the national championship stage in Edmonton July 23 to 30.
"It was unreal, a crazy experience," said the still jubilant Bishop Reding Secondary School ninth grader, of being told she'd be wearing her province's jersey. "Having tried out for the provincial team before but at higher age levels, I was so happy to finally make it."
Team Ontario head coach Christa Eniojukan seems pretty happy as well to have her on board.
"Lauren's got great finish and instinct for the game. I've followed her development for a while now, and each year she keeps getting better and stronger."
Asked what makes Boers a standout, versatile is the word that's most frequently uttered.
"She's developed into an all-around player," said Borlongan, who after recognizing her potential early on held twice-a-week extra practice sessions with her and two other Stags stars. Boers credits him and Chris Hadfield Public School coach Jason Rodney with polishing her game. "She can play any position and you can expect consistency from her."
That's no hollow sentiment, given Boers' track record for both team and individual success.
Having graduated to the provincially top-ranked Hamilton Transway Juel Jr. program this year — led by renowned bench boss Richard Nurse — Boers spent the previous two seasons helping lead the Oakville Venom to back-to-back Ontario D-1 titles.
The latter of those came with her as both captain and top scorer for the league, resulting in her being named MVP.
In tight last-minute situations over those two championship runs, Boers was invariably the one coaches wanted with the ball in her hands.
"I've had that type of high-stakes pressure on me, and that's definitely made me a stronger player."
Part of an athletic family, Boers — who's grown up admiring Kia Nurse and LeBron James — sports a basketball resumé that features numerous individual player awards and multiple 'elite player' references.
But as an admittedly 'very goal-oriented person', Boers is always striving for more.
The chance to represent her province provides a golden opportunity for exactly that — especially with Team Ontario hungry to reclaim their national supremacy after last summer's setback.
"The team had a lot of injuries last year and lost in the finals," said Boers, who believes she needs to become more aggressive and strengthen her ball handling in order to continue her upward trajectory in the sport. "I really want to be a strong leader and help Ontario bring back the gold."
------------------------------------------------------- ------------------------------------------------------- ------------------
Detail Link :
http://www.insidehalton.com/sports-story/5515950-hoop-dreams-continue/