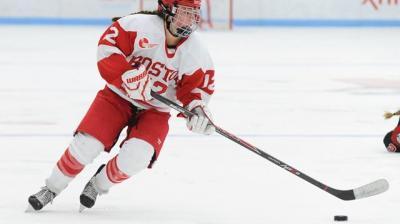 Victoria Bach's hockey future no doubt has a lot of memorable weekends in store.
But eclipsing the one that just passed will be an awfully tall order.
The 18-year-old Miltonian — who with 18 goals in the regular season was the top-scoring freshman in the nation — began by being named the Hockey East Rookie of the Year during the conference's awards banquet Friday night.
"It was a complete honour," said Bach, who led all Hockey East rookies with six power-play goals and was third in points with 27 (18g, 9a). She had five multi-point games, scored three game winners and lit the lamp in 16 contests — more than any other NCAA freshman. "It was an amazing feeling. I can't thank my coaching staff and teammates enough for such an amazing year."
Less than 48 hours later, Bach would once again have major cause to celebrate, as her Boston University Terriers knocked off top-ranked Boston College 4-1 for their fourth straight Hockey East championship.
Sunday afternoon's triumph saw the Terriers score three third-period goals — including an empty netter — to clinch the conference crown.
"It felt amazing. I still can't get over it," said Bach, who while held off the score-sheet this past weekend had back-to-back three-point games (3a & 1g, 2a) in Boston U.'s quarterfinal sweep of Vermont. "Now we just have to prepare and come out with the same game mentality and the same energy for the next game."
That'll come this Saturday afternoon, when the Terriers kick off the NCAA Tournament against the third-seeded Wisconsin Badgers.
------------------------------------------------------- ------------------------------------------------------- ------------------
Detail Link :
http://www.insidehalton.com/sports-story/5466611-milton-s-victoria-bach-named-hockey-east-rookie-of-the-year-boston-u-claims-conference-title/