Four individual medal performances highlight team's championship victory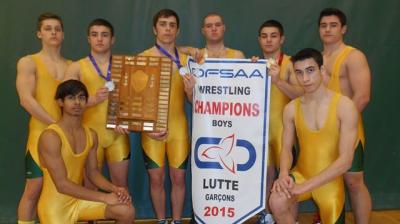 Cole Michaelis had more to give this time around, and more to celebrate because of it.
Craig Kielburger Secondary School's wrestling standout admits he was battling fatigue as much as his opponent during the late stages of last year's Ontario Federation of School Athletic Associations (OFSAA) gold-medal match — which he wound up losing.
It was a scenario — and outcome — he had no intention of repeating.
"Yeah I was a little tired at the end," recalled Michaelis. "My conditioning was definitely better this year. I had more for the second round."
The gold medal around his neck is proof of that.
Giving up just two points during a convincing run to the 64-kilogram gold-medal showdown in Windsor, Michaelis delivered back-to-back takedowns and used his signature gut wrench lockup to secure a 11-0 triumph over Taylor Karn of Fergus' Centre-Wellington District High School Wednesday.
The shutout win not only avenged two early-season losses to Karn — the rivals closed out the season at 2-2 — but clinched the OFSAA boys title for the Spartans.
"It felt really good to do that (win team championship)," said Michaelis, who became the Spartans' 17th OFSAA champ and led them to their seventh team win overall and first since 2006. The wrestling squad's success began about three decades ago at E.C. Drury, which closed in 2012 to make way for Craig Kielburger.
Taking eight wrestlers to OFSAA this past week, Simon Vanellis felt good about the chances of reclaiming the boys' banner.
"The commitment's always been there, and that's a huge part of it. So I thought if we wrestled well we could win it," said the longtime coach, whose team's seventh championship ties Winston Churchill for the record. Craig Kielburger beat out Hamilton's Bishop Ryan — who had one more representative — by five points.
Three other Spartans joined Michaelis on the podium, including twin brother Jake.
In fact he and Colin Moffat came awfully close to making it a clean sweep in the battle for gold.
Each lost by just a single point, with Jake's defeat coming in the final 10 seconds to Noah Erskine of Barrie's Nouvelle-Alliance.
Like his brother, Jake was defensively dominant en route to the 72-kg. final — with his run featuring three straight 10-0 routs before a hard-fought semifinal win.
The twins each claimed Ontario Amateur juvenile gold last month in Brampton.
For Moffat, 67.5-kg. silver made him the third brother in his family to claim an OFSAA medal — following in the footsteps of Alan and Duncan.
"Growing up I remember going to watch their OFSAA matches, but I never expected to reach this level too," said Moffat, who was eclipsed 3-2 by Barrie Central's Amanie McLaren, with the winning point coming in the last 30 seconds. "This means a lot to me."
Rounding out the Spartans' medal haul was 95-kg. grappler Cody Franke, who captured his second consecutive bronze with a convincing 9-4 decision over Kurkamal Dhahan of Brampton's Sandalwood Heights.
The four individual medals matches a single-season record for the Spartans, while this year marked the first time they had three wrestlers vie for gold.
Making up the rest of Craig Kielburger's OFSAA contingent were Arthur Mrozek, Zahid Neemuchwala, Suneel Rambharose and Adam Rochon.
------------------------------------------------------- ------------------------------------------------------- ------------------
Detail Link :
http://www.insidehalton.com/sports-story/5465351-milton-s-craig-kielburger-spartans-pin-down-ofsaa-boys-title/