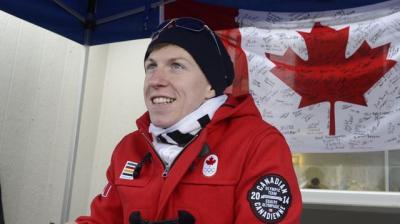 Travis Gerrits turned in his best finish of the season, finishing fourth in World Cup aerials competition in Moscow Saturday.
Gerrits scored a 118.55 on his jump in the six-man super final. That put him in first place and in good position to earn his first World Cup medal of the season. However, each of the final three competitors delivered.
Maxim Gustik of Belarus took over first with a score of 120.26. American Mac Bohonnon followed with a 123.08 to take over top spot. The final competitor, Russian Ilya Burov, bumped Gerrits off the podium by scoring a 122.62.
Despite just missing his fourth career World Cup medal, Gerrits was encouraged by his progress.
"I felt like I was getting better and better with each training jump and landing here," Gerrits said. "I'm definitely stepping in the right direction here this week. I'm super stoked now that I'm jumping the way that I know I can."
Gerrits earned his spot in the super final by placing fifth in the previous round, scoring a 114.16. So did teammate Olivier Rochon, who qualified fourth with a score of 119.03. With the scores reset for the super final, the teammates switched positions, with Rochon finishing fifth.
"We've been building to this all year," said aerial head coach Dennis Capicik. "Things are really starting to come along. We had a great training camp in Lake Placid. They're more prepared and have more of a rhythm when jumping. I'm very happy. Travis was so close to the podium. Him and Olivier were doing big jumps. You have to be happy whenever your athletes make the top-six super final. I'm proud of both of those guys today. They're starting to become the aerialists I know that they are."
Gerrits said a shift in focus following the previous World Cups, where he finished 16th and 21st, helped him in Russia.
"After Lake Placid, I really took the time to take a step back from competing and focus on the mental aspect of the sport. It's huge in aerials. I really focused on the process. It's a great feeling being in the super finals with Oli."
With the next World Cup Mar. 1 in Minsk, Belarus, Capicik believes Gerrits is just beginning to show his full potential.
"He was fourth today and he can jump even better than that," added the head coach. "This is why I've always believed in Travis so much. I know what he's capable of. He was more consistent and his landings are becoming better."
------------------------------------------------------- ------------------------------------------------------- ---------------
Detail Link :
http://www.insidehalton.com/sports-story/5442287-milton-s-gerrits-fourth-at-aerials-world-cup-in-moscow/