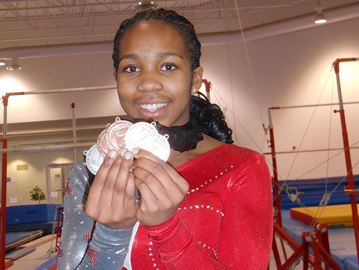 Keiara placed fourth overall at prestigious Vegas meet
Keiara Jones-Tyrell had something a little more reliable than good fortune at her disposal last weekend in Las Vegas.
Armed with the momentum and confidence acquired from multiple breakthrough performances over the past couple of seasons, the 14-year-old Milton Springer made her first trip to the prestigious Lady Luck Invitational a memorable one.
With medal-winning efforts in vault and floor — on which she struck silver and tied for the bronze respectively — the up-and-coming gymnast took fourth all around.
Finishing fourth on the uneven bars and eighth on beam, Keiara was denied a spot on the overall podium by a razor-thin margin in a Level 8 13-and-up class that saw first and fourth place separated by a mere three-tenths of a point.
Team Ontario took the second, third and fourth-place spots — with a combined eight event medals secured by that trio — in the overall rankings to grab the team title over formidable contingents from Indiana and Texas.
"I feel really good about how I did… really proud," said the accomplished Springer, who after capturing all-around gold at last year's Cancun Cup — her international debut — stamped her ticket to Vegas with an overall victory at November's Team Ontario Tour Selection.
Remarked coach Maryna Vorobyova, "Keiara did very good. Her performance was nice and strong. It's (Lady Luck) a very big competition. There's a lot of strong American clubs there."
While falling a bit short of any personal bests in Vegas, Keiara's floor routine — complete with some impressive tumbling lines — was arguably her strongest yet in high-stakes competition.
"Her vault was also very good. We thought it would actually have been judged higher," said Vorobyova of the 9.075-point showing that was surpassed only by Arizona's Anna Bramblett.
As the all-around champ at the Team Ontario Tour Selection, Keiara had the luxury of bringing along Vorobyova to the Lady Luck, which she said helped to ease the nervousness that came with jumping up to a more high-profile international assignment.
"That (having coach Maryna there) was definitely a confidence boost."
Keiara will be heading back to the U.S. next month, doing so with 19 of her club-mates for the Chicago Style.
Before that the Springers will play host to the final provincial qualifier February 7 and 8.
------------------------------------------------------- ------------------------------------------------------- ---------------
Detail Link :
http://www.insidehalton.com/sports-story/5271512-milton-springer-shows-strongly-at-lady-luck/