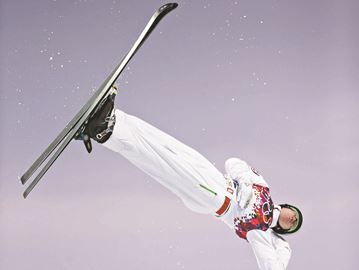 Nobody knows more about the all-or-nothing nature of aerial skiing than Travis Gerrits.
This afternoon he got another harsh reminder.
Leaning a bit too forward as he hit the snow following a well-executed back-lay- double-full-full, the 23-year-old Miltonian crash landed and finished last in the first round of the FIS Freestyle Ski World Championship finals in Kreischberg, Austria.
His 81.83-point showing squashed his chances of advancement, leaving him in 12th spot.
"It was an amazing jump in the air, but unfortunately on landing I was a little too far forward and landed on my face. So it's not good," said a blunt Gerrits, who captured silver at the world championships two years ago in Norway and recovered from an opening-round crash at the Sochi Olympics to place seventh. "To not reach the next round is really frustrating and makes me a little angry. But there's a lot of great jumpers here tonight and I know the podium will be a strong one."
Those comments were in stark contrast to how Gerrits ended yesterday's qualifying round.
Nailing his full-double-full-full for a score of 115.49, he sat second heading into the 12-jumper final.
"I'm in a great spot for tomorrow's final and it allows me to strategize a little more," he said.
Gerrits now heads home for a few days before resuming his training in Quebec before the next World Cup event in Lake Placid, NY at the end of the month.
Detail Link :
http://www.insidehalton.com/sports-story/5260342-tough-landing-for-milton-s-travis-gerrits-at-world-championships/