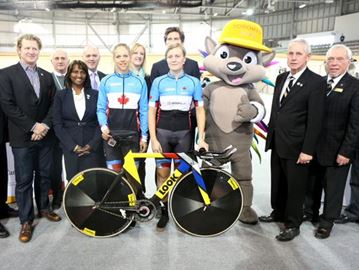 The Cisco Milton Pan Am/Parapan Am Velodrome is officially open, marking six months until the Toronto 2015 Pan Am Games.
The opening this morning (Jan. 9) is also being marked by high-level international competitions, including this weekend's Milton International Challenge.
With just six months to go until the Opening Ceremony of the Toronto 2015 Pan Am Games, another key piece of the Games infrastructure is open and another sport test event is helping to finalize preparations.
"People in Milton have watched this unique structure going up in their community, and now they're coming inside to experience this beautiful building. Not only will spectators watch top international athletes racing, but they'll also see a truly impressive community space that they'll be using for years to come," said Saäd Rafi, chief executive officer of the Pan Am/Parapan Am Games organizing committee (TO2015). "This international cycling test event is a great way to kick off 2015 — now that we're in the home stretch to the Games, you can feel the excitement building in the velodrome and throughout the region."
The velodrome saw its first athletes and spectators from January 3 to 6, at the Canadian Track Cycling Championships, presented by Cisco.
This weekend, the Milton International Challenge, also presented by Cisco, will welcome cyclists from around the world for a final push for medals and prizes in one of the last events on the calendar for the 2014-15 UCI World Cup season.
Tickets are available at https://secure1.tixhub.com/velodrome/online/index.asp.
An oval-shaped, three-storey, fully accessible velodrome is also designed to operate year-round as a community centre.
Halton MP Lisa Raitt said she was thrilled with the facility. "The opening of the Cisco Milton Pan Am/Parapan Am Velodrome marks the beginning of a new era for sport in Milton. This amazing facility will make Milton a training and competition hub for track cycling that will benefit both current and emerging Canadian cyclists for a very long time," Raitt said. "The events that have taken place here this week are just the tip of the iceberg for what is in store for sport enthusiasts during this Year of Sport in Canada, and I'm counting the days until the start of the Toronto 2015 Pan Am/Parapan Am Games."
Halton's MPP Indira Naidoo-Harris echoed her words.
"The new Cisco Milton Pan Am/Parapan Am Velodrome is an important win for our athletes, our economy and our local community," she said. "High-performance athletes are now training and competing in this world-class facility. I'm proud of our government's investment in these games and this facility which will benefit families, businesses and athletes right here in Milton for generations to come."
And, nobody seemed more excited than Milton Mayor Gord Krantz.
"We look forward to welcoming the international cycling community to Milton for the test event this weekend, and the Pan Am and Parapan Am Games this summer," he said. "These events are an opportunity to showcase this amazing new facility, which will be a hub for competitive cycling and a community recreation facility to be enjoyed by all."
Mark Collins, vice-president of marketing for Cisco Canada, added that the velodrome is a unique facility that will "put Canada on the international cycling map.
"This facility is a fitting symbol of Cisco's partnership with TO2015 — a state-of-the-art facility bringing innovation and new opportunities to sport and the community," Collins said. "Together with TO2015, Cisco will connect this velodrome to other Pan Am venues, the data operations centre, and to the fans to create the most connected Pan Am Games ever."
The Toronto 2015 Pan American Games will take place July 10 to 26 and the Parapan American Games August 7 to 15.