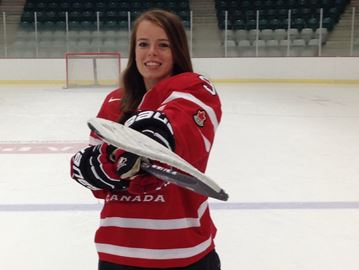 No matter what level of hockey she jumps to, Victoria Bach makes the transition look seamless.
She capped another prime example of that this afternoon in Füssen, Germany — with a goal and an assist in the Canadian women's development team's 4-0 whitewash of Sweden in the gold-medal showdown of the Nations Cup.
Her two points came in the second period of the lopsided affair, as Canada out-shot the Swedes 34-10.
The youngest member of the national squad, 18-year-old Bach finished the four-day, six-team tournament with a team-high five goals and one assist.
She tallied twice in both preliminary games, resulting in 4-1 and 5-1 victories over Finland and Russia respectively.
This marks Bach's second gold-medal run with Team Canada in the past year, having collected seven points (4g, 3a) in the U18 world championships last spring in Budapest, Hungary.
About the only thing more noteworthy than her individual scoring prowess is her track record of team success — which includes provincial gold with last season's Mississauga Chiefs and back-to-back Under-18 national titles with the Ontario program.
She now returns to Boston University, where she's currently tied for first overall in the NCAA's D-1 freshman ranks for goals with nine.
www.insidehalton.com