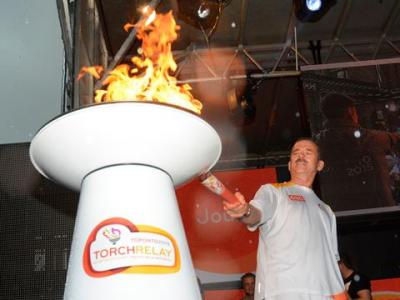 If Monday's book signing at the library is any indication, former Miltonian Chris Hadfield remains very much in demand since visually captivating Twitter followers worldwide during his time aboard the International Space Station.
So perhaps it was only fitting that someone with a popularity as red-hot as his was chosen to light the ceremonial cauldron to wrap up day one of the Pan Am Games Torch Relay Saturday.
Col. Hadfield — who grew up in town before becoming Canada's most well-known and beloved astronaut — did so in Toronto's Distillery District, amidst a soggy start to the 41-day torch relay.
"As a proud Canadian who has worn our flag on my shoulder out alone into the vastness of space, I am honoured to support our athletes and communities by carrying the Pan Am flame," said Hadfield, who drew nearly 2,000 admirers to Milton Public Library for his One Book, One Milton appearance.
The Pan Am torch arrived at Toronto's waterfront by float plane and was paddled to shore by the original keepers of the land, represented by the four key Aboriginal partners of the Toronto 2015 Pan Am/Parapan Am Games — the Mississaugas of the New Credit First Nation, Six Nations, Métis Nations of Ontario and Huron-Wendat First Nation.
Hadfield was one of 20 day-one torchbearers who are among a total of more than 3,000 who'll carry the flame over the next few weeks.
Olympic freestyle aerialist Travis Gerrits, well-known music teacher Derek McGowan, long-time community volunteer Donna Coulter and Olympic track cyclists Steve Bauer and Joseph Veloce will serve as torchbearers during the Milton portion of the relay, which is set for June 23.
Meanwhile, local veteran Fred Smith will carry the torch in Ajax this coming Saturday, June 6 in recognition of his work with Veterans Helping Veterans.
To follow the torch relay route, visit www.toronto2015.org/torch-relay.
------------------------------------------------------- ------------------------------------------------------- -----------------
Detail Link :
http://www.insidehalton.com/news-story/5653512-former-miltonian-chris-hadfield-lights-pan-am-games-torch-cauldron/