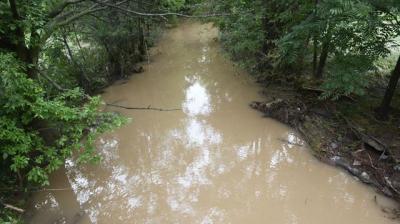 Conservation Halton has issued a weekend warning through Monday about elevated water levels, fast-moving water and slippery conditions along stream and creek banks making for potentially dangerous conditions around watercourses, bridges, culverts and dams.
"Conservation Halton advises that Environment Canada is forecasting showers and thunderstorms today, with rainfall continuing throughout tomorrow. These conditions may result in over 40 millimetres of rainfall over today and tomorrow, with the possibility for higher amounts where thunderstorms occur," stated Conservation Halton's flood outlook statement issued earlier this afternoon.
"Based on the forecast, we will experience an increase in flows and water levels in our creeks throughout Halton, sometimes rapidly. Widespread flooding is not currently anticipated however flooding of low-lying areas and roadways should be expected."
The conservation authority further warned residents to stay away from streams, creeks and rivers during the high water conditions.
"Conservation Halton is asking all residents and children to stay away from all watercourses and structures such as bridges, culverts and dams. Elevated water levels, fast flowing water, and slippery conditions along stream banks continue to make these locations extremely dangerous."
Parents and caregivers are being asked to alert children of the imminent dangers to help avoid a tragedy.
Conservation Halton continues to monitor stream and weather conditions and will issue further messages as necessary.
------------------------------------------------------- ------------------------------------------------------- -----------------
Detail Link :
http://www.insidehalton.com/news-story/5653136-conservation-halton-issues-high-water-flood-warning/