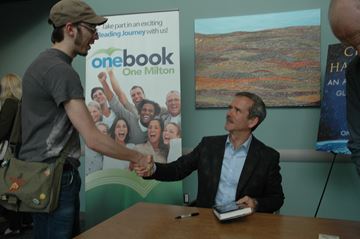 It really was an out of this world experience for more than 1,800 Milton residents who clamoured to get a glimpse of astronaut Chris Hadfield at the Milton Public Library on Monday night.
The former Milton native visited the library where he spoke to guests and signed his book 'An Astronaut's Guide to Life on Earth' as part of the One Book One Milton community read. The book was chosen as this year's title read for the initiative that aims to connect and engage Miltonians through the shared experience of reading and discussing a chosen book.
Some 350 people signed up for tickets to have their book signed, while other activities, many space-related, and Canadian singer/songwriter Ambre McLean kept the huge crowd entertained.
The library was filled to the brim with excited families straining to get a glimpse of Hadfield, who was the first Canadian commander of the International Space Station in 2013.
Like his book does, Hadfield encouraged the crowd to make the impossible a reality. In his case, he wanted to be an astronaut since man walked on the moon July 20, 1969.
"That's who I am that's what I want to be when I grow up and I started turning myself into an astronaut when I was nine years old," he said. "And 20 years ago this year, I was lying on my back in a space shuttle, watching it count down. I'd been studying and training and preparing and learning everything there was to know about that spaceship. When we launched out of Florida, it was
violent and powerful and incredibly-complicated.
"We successfully rammed our way up through the atmosphere, accelerating by going faster and faster and faster; it felt like all these big people on top of me slapping me in the face, and finally we were going fast enough to be in orbit around the world and the engines shut off and I floated to the window and I started seeing England and then Africa and then 90 minutes later, before my mom had even got away to start driving to the hotel in Florida, we had already been around the world once."
His goal of becoming an astronaut was suddenly reality.
"We crossed the border from the United States into Sarnia where I was born and the space shuttle came down the 402, all the way to London where I was an air cadet, where I learned to fly, flies down the 401," he said, describing that first rotation past familiar places. "It's amazing – you come ripping down the 401, in just 90 minutes, the 401 at eight kilometres a second, which is the right way to go down the 401, and then we came across the escarpment where I'd been a ski instructor over at Glen Eden.
"We came around that corner, I could see Toronto, I could see Oakville, I could see Lake Ontario and I could see Milton and the farm where my parents still live and Milton District High School where I graduated, and the buildings where I'd studied as an air cadet here. And it was amazing for me to try to put all those things together in my head.
"From dreaming about it as a young Canadian, to changing myself into an astronaut to then being able to fly a rocket ship and then just an hour and a half after launch to be able to look down where all those things happened."
Hadfield asked, what do you do when you have an experience like that?
"You could just keep it to yourself, but I've spoken in thousands of schools all across Ontario, and I thought it would be a good to write down some of the things I saw, and the ideas that allowed me to do that."
His book is the outcome. He said he was thrilled that it was chosen as this year's One Book.
"It's a chance for everybody to maybe see the world that my eyes have had a chance to see," he said. "Maybe share some ideas, maybe think about what you're doing, and for young folks to think about the adult you're going to turn yourself into.
"This book is in 20 languages all around the world," he said, to great applause. "I hope you find it fun to read, and that you find it a useful book to read."
Milton residents April Spencer and her daughter Kaelyn Beyer, 12, were among the first to have their books personalized — something Hadfield doesn't always do, but Monday night, he personalized each and every one.
Kaelyn was thrilled she had a chance to meet Hadfield again. She met him one other time and when she heard he was making an appearance at the local library she said she jumped at the chance to have her book signed by him.
That was the story of the day for most of the people who waited for hours to have their books signed and a photo taken.
Hadfield noted that his book strives to help people live life well.
"What is it in life you want and what is the best way, not only to be pursuing a long-term dream, but to enjoy what's happening everyday along the process.
"That's what I really wanted to focus on in the book — is how to conduct life on earth so that you're as proud of yourself and as content with your accomplishments as you can possibly be."
He added "that's what the book's about…how to love the process that's leading you to the thing you're dreaming of and not waiting for the finish line to feel like you're succeeding."
Prior to the event's start, Hadfield also held a media scrum with several journalists where he offered some glimpses into his private life, saying that he has two dogs, "a Maltese named Jack, and a pug named Albert; ah, one is smart and the other one, not so much," he laughed.
He shared that his favourite breakfast cereal is "plain Cheerios…I love plain Cheerios. To me, if I can start the morning with Cheerios and some milk, it's like the best day ever.
"They were onboard the space station, but they were the vacuum-packed Cheerios, with powdered skim milk, which is not as good as regular Cheerios – it turns into Cheery-oatmeal – but that's okay."
Afterward, he led a selfies-session, hamming it up with each member of the media and personally taking selfies with him on their individual smartphones.
Go to www.onebookonemilton.ca for upcoming One Book One Milton events.
------------------------------------------------------- ------------------------------------------------------- ----------------
Detail Link :
http://www.insidehalton.com/news-story/5645607-chris-hadfield-wows-huge-crowds-at-milton-library/