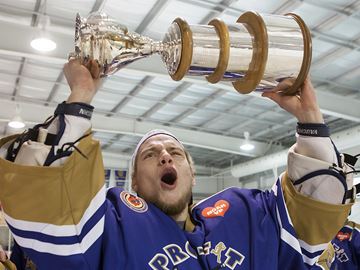 Veteran junior goalie replaced for end of Sutherland Cup title run, but thrilled to see Caledonia repeat as champs
Kevin Entmaa's teammates had started passing around the Sutherland Cup only a few moments earlier, and already the personal sting had begun to fade.
This was one of those bittersweet moments where it didn't take much to let the sweet part take over.
"It's more about the team," stressed the 20-year-old Milton cager.
Having put his Caledonia Corvairs on the threshold of Ontario Jr. B supremacy with three straight wins against the LaSalle Vipers, Entmaa suffered a rare sub-par performance in game five Friday.
Giving up four goals on 18 shots, he got the hooked early in the second period. Capable back-up Marc Sinclair held LaSalle off the board for the rest of regulation until finally being beaten in overtime, then got the call two nights later and came up strong with 28 saves to clinch Caledonia's Sutherland Cup title defence with a 4-3 victory.
Said Entmaa, "Sure it's tough to be on the bench for that last game, but it's all about lifting that trophy."
The seasoned junior cager didn't quite get to do that with the Aurora Tigers last year — leading them to the Ontario Junior Hockey League (OJHL) final before being vanquished by Toronto Lakeshore in six games.
After three seasons in Aurora — the last of which saw him named Goalie of the Year and a first-team all-star — Entmaa was looking to end his junior career with a change of scenery.
The idea of joining the defending champion Corvairs, who were closer to home and had just lost their starting tender, seemed like an ideal fit. That option became even more appealing after watching a few games of the 2013/14 Sutherland Cup playoffs online and speaking with former teammate Jordan Peacock, who had just helped Caledonia to the title last spring.
"Everything I heard (about Caledonia) was great," said Entmaa. "The coaching staff here really knows what they're doing in terms of putting together a team and motivating us through the playoffs."
While missing several weeks with a torn MCL midway through the season, Entmaa enjoyed another standout campaign — with a goals-against average of 1.84 and save per centage of .920 over a 19-1-2 record.
His Sutherland Cup final — which punctuated a playoff run with a 2.47 GAA and .909 save percentage — was highlighted with a 37-save effort to win game three 3-2.
Entmaa admits there were plenty of games this season in which he wasn't quite so busy.
"We had a great defensive core. A lot of nights I was seeing 20 shots or less."
While some may view Jr. B as a step down for an OJHL standout like Entmaa, he suggested that the larger crowds he'd play to in Caledonia and on road trips likely served as motivation for the players — helping boost the level of competition.
"Overall the fan support was much better. There's a lot of packed barns here."
Entmaa now hopes to taste team success on the collegiate front, as he heads to Michigan in the fall to compete with formidable the Adrian College Bulldogs, who reached the NCAA D-3 semifinals this spring.
------------------------------------------------------- ------------------------------------------------------- ----------------
Detail Link :
http://www.insidehalton.com/sports-story/5602506-it-s-all-about-lifting-that-trophy-entmaa/