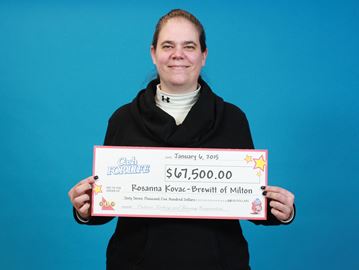 A Milton woman is the winner of a $100-a-week-for-life prize after purchasing a $2 ticket.
Rosanna Kovac-Brewitt is the latest winner of the OLG's life-long cash prize after purchasing an instant Cash for Life ticket at Main Street Convenience and Cigar on Main Street in Milton.
Instead of receiving cash per week, Kovac-Brewitt opted to take a lump sum of $67,500.
The top prize in Cash for Life is $1,000 a week for life. The odds of winning a prize are one in four, according to the OLG.
www.insidehalton.com