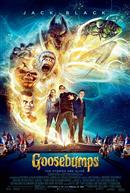 Director Rob Letterman
Rated PG
Starring Jack Black, Dylan Minnette, Odeya Rush, Amy Ryan, Ryan Scott Lee, Jillian Bell, Halston Sage, Timothy C. Simons, Ken Marino, Amanda Lund, Steven Krueger, Keith Arthur Bolden, Karan Soni, R.L. Stine, Caleb Emery, Gabriela Fraile, Avery Lee Jones, Jake McKinnon, Nate Andrade, Melissa Brewer, Melissa Cowan, Evertt Dixon, Kevin Galbraith, Clare Halstead, Rory Healy
Writer Darren Lemke, Scott Alexander, Larry Karaszewski, R.L. Stine
Producer Deborah Forte, Neal H. Moritz, Tania Landau, Bill Bannerman, Benjamin Waisbren, Bruce Berman, Greg Basser, Greg Baxter
Genre Action Adventure
Release Date October 16, 2015
Running Time 104 Mins
Upset about moving from a big city to a small town, teenager Zach Cooper (Dylan Minnette) finds a silver lining when he meets the beautiful girl, Hannah (Odeya Rush), living right next door, and makes a quick friend in Champ (Ryan Lee). But every silver lining has a cloud, and Zach's comes when he learns that Hannah's mysterious dad is in fact R.L. Stine (Jack Black), the author of the bestselling Goosebumps series. As Zach starts learning about the strange family next door, he soon discovers that Stine holds a dangerous secret: the creatures that his stories made famous are real, and Stine protects his readers by keeping them locked up in their books. When Stine's creations are unintentionally released from their manuscripts, Zach's life takes a turn for the weird. In a crazy night of adventure, it's up to Zach, Hannah, Champ, and Stine to team up and get all of these figments of Stine's imagination – including Slappy the Dummy, the girl with the haunted mask, the gnomes and many more – back in the books where they belong to save the town.
1175 Maple Avenue, Milton, ON, L9T 0A5

(NOV 14) 11:30 AM, 2:10 PM, 4:50 PM, 7:30 PM

(NOV 15) 2:10 PM, 4:50 PM, 7:30 PM