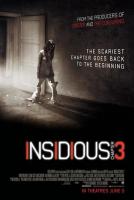 Director Leigh Whannell
Rated PG-13
Starring Dermot Mulroney, Stefanie Scott, Angus Sampson, Leigh Whannell, Lin Shaye, Tate Berney, Michael Reid Mackay, Steve Coulter, Hayley Kiyoko, Corbett Tuck, Tom Fitzpatrick, Tom Gallop, Jeris Lee Poindexter, Ele Keats, Phyllis Applegate, Phil Abrams, Jacob Crawford, Erin Anderson, Amaris Davidson, Ashton Moio, Ruben Garfias, Fawn Irish, Taylor John Smith, Adrian Sparks, James Wan
Writer Leigh Whannell
Producer Jason Blum, Oren Peli, James Wan, Steven Schneider, Brian Kavanaugh-Jones, Peter Schlessel, Lia Buman, Xavier Marchand, Charles Layton, Rick A Osako, Jeanette Brill, Bailey Conway, Phillip Dawe, Laura Altmann
Genre Horror
Release Date June 5, 2015
Running Time 97 Mins
The newest chapter in the terrifying horror series is written and directed by franchise co-creator Leigh Whannell. This chilling prequel, set before the haunting of the Lambert family, reveals how gifted psychic Elise Rainier (Lin Shaye) reluctantly agrees to use her ability to contact the dead in order to help a teenage girl (Stefanie Scott) who has been targeted by a dangerous supernatural entity.
1175 Maple Avenue, Milton, ON, L9T 0A5

(June 15) 06:40 PM 10:00 PM

(June 16) 06:40 PM 10:00 PM

(June 17) 06:40 PM 10:00 PM

(June 18) 06:40 PM 10:00 PM

(June 12) 12:20 PM 02:45 PM 06:40 PM 10:20 PM

(June 13) 12:20 PM 02:45 PM 06:40 PM 10:20 PM

(June 14) 12:20 PM 02:45 PM 06:40 PM 10:15 PM
Without a doubt, this movie is the king of all the Insidious movies. I feel like this is undoubtedly due to the fact that it makes you all at once feel horrified and sad, while also having mild undercurrents of comedic relief. This movie has way more substance than all the others in the franchise. For instance, I actually felt a connection to the characters in this movie. The tension between the father and daughter was so intense that it was palpable. I found myself feeling sorry for the father for having to carry such an emotional burden while also feeling bad for the daughter for basically having to take on the maternal role in the household. I can honestly say that the first two movies didn't do that great of a job at making me feel any emotions resembling sympathy toward the protagonists. My favorite part about this movie was that it really tugged at the old heart strings. As one having dealt with the loss of many loved ones over time, I understand the deep desire to reach out to them from beyond the grave. Somehow the subject of a teenage girl wanting to contact her deceased mother made the old wounds of my own personal losses feel fresh. Toward the end of the movie, I found my eyes welling up with tears. I can honestly say walking out of the theater, I felt like it was a great ten bucks spent.