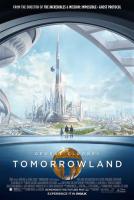 Director Brad Bird
Rated PG
Starring George Clooney, Hugh Laurie, Britt Robertson, Raffey Cassidy, Tim McGraw, Kathryn Hahn, Keegan-Michael Key, Chris Bauer, Thomas Robinson, Pierce Gagnon, Matthew MacCaull, Judy Greer, Matthew Kevin Anderson, Michael Giacchino, D Harlan Cutshall, Shiloh Nelson, Xantha Radley, David Nykl, Paul McGillion, Pearce Visser, Garry Chalk, Dagan Nish, Yusuf Abdullah Ahmed, Alex Barima, Jedidiah Goodacre
Writer Damon Lindelof, Brad Bird, Jeff Jensen
Producer Damon Lindelof, Brad Bird, Jeffrey Chernov, John Walker, Bernard Bellew, Jeff Jensen, Brigham Taylor, Tom Peitzman, Debbi Bossi
Genre Action Adventure
Release Date May 23, 2015
Running Time 130 Mins
Bound by a shared destiny, a teen bursting with scientific curiosity and a former boy-genius inventor embark on a mission to unearth the secrets of a place somewhere in time and space that exists in their collective memory.
1175 Maple Avenue, Milton, ON, L9T 0A5

(June 01) 07:05 PM 10:05 PM

(June 02) 07:05 PM 10:05 PM

(June 03) 07:05 PM 10:05 PM

(June 04) 01:00 PM 07:05 PM 10:05 PM

(May 29) 01:10 PM 04:10 PM 07:05 PM 10:05 PM

(May 30) 01:10 PM 04:10 PM 07:05 PM 10:05 PM

(May 31) 01:10 PM 04:10 PM 07:05 PM 10:05 PM
I was intrigued when I heard of Tomorrowland; a movie made off of a arcade ride! I was not disappointed in the least. The cast is well chosen and perform their roles well; I was most impressed with Athena (Raffey Cassidy), I expect we might see her around more in the future, and seeing Hugh Laurie as the antagonist is appropriate; I love his work. The directing and editing are performed well enough. Being a Disney film does lend the over-all story and plot lines to have certain predictability - all of which is fine for me. The special effects were very good. The movie is for all ages, both in context and content, children will be able to follow the story. Take the family and enjoy!