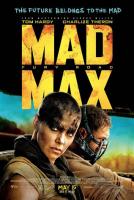 Director George Miller
Rated R
Starring Tom Hardy, Charlize Theron, Nicholas Hoult, Hugh Keays-Byrne, Joshua Helman, Nathan Jones, Zoe Kravitz, Rosie Huntington-Whiteley, Riley Keough, Abbey Lee Kershaw, Courtney Eaton, John Howard, Richard Carter, iOTA, Angus Sampson, Jennifer Hagan, Megan Gale, Melissa Jaffer, Gillian Jones, Joy Smithers, Melita Jurisic, Christina Koch, Quentin Kenihan, Steve Dunlevy, Vincent Roxburgh
Writer George Miller, Nicolas Lathouris, Brendan McCarthy
Producer George Miller, Doug Mitchell, P J Voeten, Iain Smith, Graham Burke, Bruce Berman, Chris deFaria, Courtenay Valenti, Steven Mnuchin, Genevieve Hofmeyr
Genre Action Adventure
Release Date May 15, 2015
Running Time 120 Mins
From director George Miller, originator of the post-apocalyptic genre and mastermind behind the legendary "Mad Max" franchise, comes "Mad Max: Fury Road," a return to the world of the Road Warrior, Max Rockatansky. Haunted by his turbulent past, Mad Max (Tom Hardy) believes the best way to survive is to wander alone. Nevertheless, he becomes swept up with a group fleeing across the Wasteland in a War Rig driven by an elite Imperator, Furiosa (Charlize Theron). They are escaping a Citadel tyrannized by the Immortan Joe (Hugh Keays-Byrne), from whom something irreplaceable has been taken. Enraged, the Warlord marshals all his gangs and pursues the rebels ruthlessly in the high-octane Road War that follows.
1175 Maple Avenue, Milton, ON, L9T 0A5

(June 15) 10:20 PM

(June 16) 10:20 PM

(June 17) 10:20 PM

(June 18) 12:50 PM 10:20 PM

(June 12) 10:25 PM

(June 13) 10:25 PM

(June 14)
George Miller returns with a bang and takes the helm of this crazy 2hr bonkers extravaganza named Mad Max: Fury Road. First of all, the stunts and action sequences are SPECTACULAR. Tom Hardy breaths life into Max Rockatansky and Charlize Theron is excellent and emotionally perfect as Furiosa. The story opens, with Immortan Joe who has young ladies as his wives, but he'll goes down when they escape the sadist's hands. Max, who has a violent past with Joe's cronies, decides to help Imperior Furiosa take the girls somewhere safe. Furiosa can't trust Max, and neither can he. So it all comes down to Joe's cronies fighting against them reaching to their destination. The movie is a bananas car chase for the runtime, as Max and Furiosa work together to fight against the evils. And then, there is Nux, a bonkers "really skin coloured" guy, who works with Joe, played well by Nicholas Hoult. The 3D really pays off, and is worth the extra ticket. The movie puts all other action movies of shame, the effects really pop out. Well, this is a definite masterpiece. One of the best movies of the year, one of the best action movies ever made and the role of Theron's life. Miller is truly a mastermind as stated clearly in the trailer. This exceeded my expectations, and will exceed yours as well. The dark style, dark comedy and the over the top characters make a return in this reboot. Must watch, and worth the extra IMAX 3D ticket.