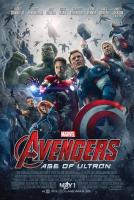 Director Joss Whedon
Rated PG-13
Starring Robert Downey Jr., Chris Hemsworth, Mark Ruffalo, Chris Evans, Scarlett Johansson, Jeremy Renner, James Spader, Samuel L. Jackson, Don Cheadle, Aaron Taylor-Johnson, Elizabeth Olsen, Paul Bettany, Cobie Smulders, Anthony Mackie, Hayley Atwell, Idris Elba, Stellan Skarsgård, Soohyun, Thomas Kretschmann, Andy Serkis, Julie Delpy, Stan Lee, Henry Goodman, Chris Luca, Brian Schaeffer
Writer Joss Whedon, Stan Lee, Jack Kirby, Joe Simon
Producer Kevin Feige, Louis D'Esposito, Alan Fine, Victoria Alonso, Jeremy Latcham, Patty Whitcher, Jon Favreau, Stan Lee, Mitchell Bell, Jamie Christopher, Jeff Ford, Daniel Kaminsky
Genre Action Adventure
Release Date May 1, 2015
Running Time 141 Mins
Marvel Studios presents "Avengers: Age of Ultron," the epic follow-up to the biggest Super Hero movie of all time. When Tony Stark tries to jumpstart a dormant peacekeeping program, things go awry and Earth's Mightiest Heroes, including Iron Man, Captain America, Thor, The Incredible Hulk, Black Widow and Hawkeye, are put to the ultimate test as the fate of the planet hangs in the balance. As the villainous Ultron emerges, it is up to The Avengers to stop him from enacting his terrible plans, and soon uneasy alliances and unexpected action pave the way for an epic and unique global adventure. Marvel's "Avengers: Age of Ultron" stars Robert Downey Jr., who returns as Iron Man, along with Chris Evans as Captain America, Chris Hemsworth as Thor and Mark Ruffalo as The Hulk. Together with Scarlett Johansson as Black Widow and Jeremy Renner as Hawkeye, and with the additional support of Samuel L. Jackson as Nick Fury and Cobie Smulders as Agent Maria Hill, the team must reassemble to defeat James Spader as Ultron, a terrifying technological villain hell-bent on human extinction. Along the way, they confront two mysterious and powerful newcomers, Wanda Maximoff, played by Elizabeth Olsen, and Pietro Maximoff, played by Aaron Taylor-Johnson, and meet an old friend in a new form when Paul Bettany becomes Vision. Written and directed by Joss Whedon and produced by Kevin Feige, Marvel's "Avengers: Age of Ultron" is based on the ever-popular Marvel comic book series "The Avengers," first published in 1963.
1175 Maple Avenue, Milton, ON, L9T 0A5

(June 15) 09:55 PM

(June 16) 09:55 PM

(June 17) 09:55 PM

(June 18) 10:05 PM

(June 12) 04:00 PM 10:10 PM

(June 13) 04:00 PM 10:10 PM

(June 14) 04:00 PM 10:05 PM
Everything seems so bland. The constant jibe of who gets the last word in seems forced, predictable and acts like an edit for the next scene. Coming out of the screening, there is not one scene or moment that i feel that i can walk away with in awe. The romantic angle that was introduced lack chemistry. From out of nowhere, the characters involved suddenly had an interest for one another? Without any build up of it in past movies nor in this one, it just felt empty. Camera angles that were purposefully shot for the intentional thrill of 3D is like any other angles used in any other 3D-movie-going-experience. I wonder when will this gimmick/trend go away. All in all...it is still watchable. It just left a disdain taste of yet another repetition of the Marvel formula. Age of Ultron neither has the quality and magic of both Guardians of the Galaxy or Captain America Winter Soldier had.