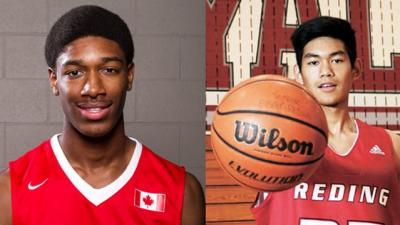 A pair of local basketball standouts will be getting some big-time exposure next week.
Bishop Reding's Christian David and Kyle Alexander — part of the powerhouse Orangeville Prep Athlete Institute — are among 24 18-and-under players set to compete in the inaugural BioSteel All Canadian Basketball Game (ACBG) Tuesday, Apr. 14 at the Mattamy Athletic Centre in Toronto.
The day-long event — featuring Canadian-born players and those enrolled in a Canadian institution — will culminate with an all-star game that'll air on TSN immediately following the Raptors' game against Boston (at roughly 10 p.m.).
Coming from a strong basketball family, 18-year-old Alexander is a 6-foot-9 power forward who's currently weighing offers from a number of NCAA D-1 schools.
Not too shabby for someone who only started playing competitively two years ago and is now ranked sixth nationally for this year's graduating class by North Pole Hoops (NPH).
"My dad came to me one day and said I wasn't using my height," quipped Alexander of his late start on the court. His Orangeville Athlete Institute team played in numerous high-end tournaments on both sides of the border this past season and recently won the newly-established Ontario Scholastic Athletic Association championship. While he'll most likely be able to play in the national showcase next week, Alexander still has to get final clearance today for a recently-sustained fractured wrist. "I'm very appreciative of this opportunity (to be part of national game). To be one of just 24 players in the country to be named for this game feels great."
A 6-foot-5 shooting guard, 16-year-old David is currently ranked number one for the Class of 2017 by NPH.
He's held top spot for the better part of a year now, since delivering an MVP performance at the NPH Showcase in Toronto last June.
The top offensive threat on a Bishop Reding squad that made it to Quad-A OFSAA this season, also has several D-1 schools showing interest in him.
His basketball resumé includes a victory at the prestigious LeBron James Tournament with the Under-16 Stags.
"It is truly a blessing to be selected to the first All-Canadian BioSteel game. This opportunity is very meaningful to me as I am given the chance to showcase my talent on a national stage and perform in front of many college scouts," said David. "This will also allow me to see where I can improve my game and where I stand against the top Canadian high school prospects."
------------------------------------------------------- ------------------------------------------------------- ----------------
Detail Link :
http://www.insidehalton.com/sports-story/5542538-milton-basketball-duo-take-to-national-all-star-stage/